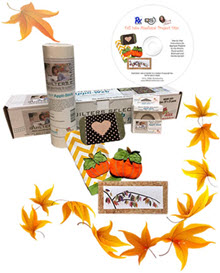 Quilters Select Applique Bundle
Quantity in Basket:
None
Code:
QSP-APPBUNDL
MSRP:
$220.00
Our Price:
$99.99
Shipping Weight:
5.00 pounds
Quilters Select Applique Bundle
Try Quilters Select applique products to tackle any applique project this Fall! And included with these stabilizers is the popular Fall into Appliqué Project disc from last year! This multi-project disc has been in demand ever since 2016 ended and now IT IS BACK! These projects and their instructions serve as a complete tutorial on appliqué and its many types, with creations like table runners, decorative napkins, centerpieces, and more!
Bundle Includes:
Select Appli-Stick 12" x 10 yds

Select Appli-Stick Tape 1/2" x 25 yds

Select Appli-Web 20" x 25 yds

Fall into Applique Project CD