Jenny Haskins Quilting Fabric
The inspiration for the When Dreams Flower fabric collection for Windham Fabrics which is her first fabric line came from Jenny's latest quilt book of the same name which had been a dream of hers for the past 5 years. Jenny's background is art and she always dreamed of creating a quilt that reflected her brush and canvas days but this quilt was painted with fabric, needle and thread. Jenny is thrilled that for the first time she has a fabric range that matches those fabrics, embroidery (for those who do not embroider) and techniques used in her quilt, so everyone can easily replicate. Windham looks forward to future collaborations with Jenny.

When Dreams Flower book and When Dreams Flower Quilt kits are available now!

Ring-a-Ring a Rosie Pocket Full of Posies Quilt
Kit and FREE pattern available!
Spring Dreams Pillow kits are available in Green or Pink. Click here to view all kits.

MSRP:
$179.99
Price:
$139.99
Quantity in Basket:
none
MSRP:
$49.50
Price:
$49.49
Quantity in Basket:
none
MSRP:
$140.81
Price:
$116.99
Quantity in Basket:
none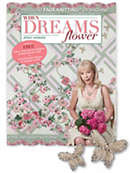 Price:
$47.99
Quantity in Basket:
none
Price:
$4.60
per 1/2 yard
Quantity in Basket:
none

Price:
$4.60
per 1/2 yard
Quantity in Basket:
none
Price:
$4.60
per 1/2 yard
Quantity in Basket:
none
Price:
$4.60
per 1/2 yard PRECUT
Quantity in Basket:
none
Price:
$4.60
per 1/2 yard
Quantity in Basket:
none

Price:
$4.60
per 1/2 yard
Quantity in Basket:
none
Price:
$9.20
Quantity in Basket:
none

Price:
$4.60
per 1/2 yard
Quantity in Basket:
none

Price:
$4.60
per 1/2 yard
Quantity in Basket:
none

Price:
$4.60
per 1/2 yard
Quantity in Basket:
none

Price:
$4.60
per 1/2 yard
Quantity in Basket:
none
Price:
$4.60
per 1/2 yard
Quantity in Basket:
none

Price:
$4.60
per 1/2 yard
Quantity in Basket:
none
Price:
$4.60
per 1/2 yard
Quantity in Basket:
none

Price:
$4.60
per 1/2 yard
Quantity in Basket:
none

Price:
$4.60
per 1/2 yard
Quantity in Basket:
none

Price:
$4.60
per 1/2 yard
Quantity in Basket:
none
Price:
$4.60
per 1/2 yard
Quantity in Basket:
none