Kimberbell Fill in the Blank: JANUARY 2021 PROJECT – Sparkle Like You Mean It Chambray Tote
Quantity in Basket:
None
Code:
KDFB101
Our Price:
$12.95
Shipping Weight:
0.40 pounds
Sparkle Like You Mean It: LIMITED EDITION Chambray Tote
"Sparkle Like You Mean It" with glowing Fairy Lights and Applique Glitter! Kimberbell's January Fill in the Blank design is bright and beautiful on a chambray tote, with colorful applique blossoms and a banner of soft Embroidery Felt. Available for both sewing and machine embroidery, "Sparkle Like You Mean It" is the Kimberbell way to dazzle your day.
RECEIVE A FREE, EXCLUSIVE DESIGN FOR BOTH SEWING AND MACHINE EMBROIDERY when you purchase this month's design blank – the brand-new Chambray Tote!
PLEASE NOTE: THESE DESIGNS WILL BE SENT AS A DOWNLOAD LINK TO YOU IN JANUARY 2021. Totes will ship starting December 18, 2020.
Includes (1) Chambray Tote Blank + the design file and/or sewing machine pattern for the design. This purchase DOES NOT include the embellishments and materials found on the bag. Embellishment/fabric kit may be purchased separately HERE or the related products shown below.
You may then join our private Facebook group for Fill in the Blank projects with group chats and Zoom meetings!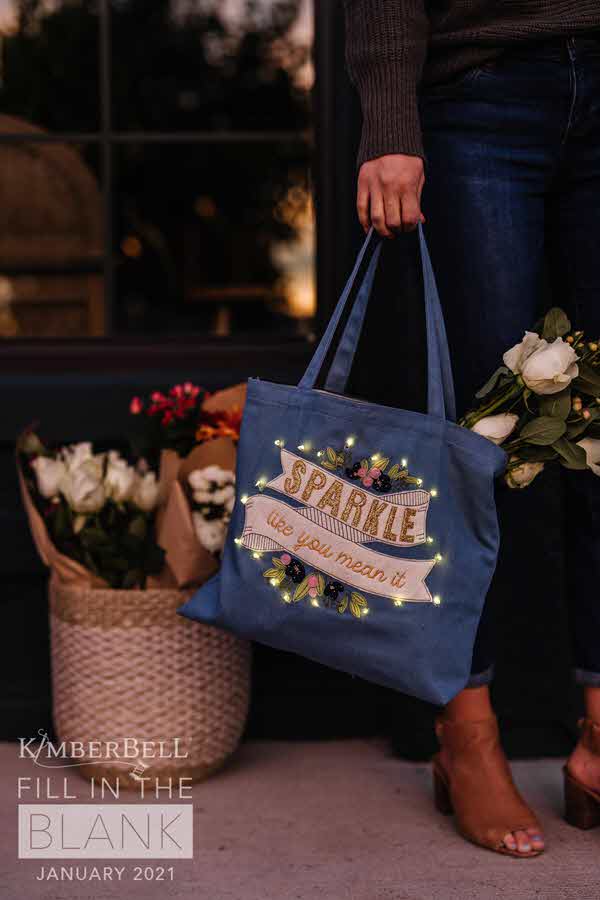 Related Item(s)
Name
Price / Availability