Floriani Total Control U + FREE Shipping!
Quantity in Basket:
None
Code:
S-FTC-P
MSRP:
$4299.00
Our Price:
$2,999.00
Shipping Weight:
0.30 pounds
Floriani Total Control Pro, the best bargain of the season - just got better!
Floriani Total Control Pro gives you professional production abilities ALL in one affordable package, and now it's a great bargain to kick off your 2014! You will receive the Brand New 25 Hour Floriani Training DVD ($799 Retail Value)* when you purchase the Floriani Total Control Pro Embroidery Software during our Year-End Sell-Out Promotion.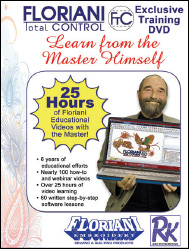 *To redeem this offer simply enter YEAR END SAVINGS in the comments during checkout (Valid until 1/31/2014). Your FREE Floriani Training DVD will be mailed direct to you within 2 to 4 weeks.
Floriani Total Control Professional
FTC-P: Floriani Total Control Professional gives you all the functions of Embroidery Suite PLUS amazing professional features included only in commercial grade software.
Includes All FEATURES in the Embroidery Suite PLUS:

Running Stitch for Redwork
Over 140 Fonts
Run Stitch Font
Tackle Twill Program
Inside-out Feature for Caps
New Pattern Fill Shapes
Save Design as JPG Feature
Auto baste feature
Create Custom Emboss & Fills
Alignment icons for easy placement
Optimizes entry and exit points
All the features of Floriani's Embroidery Suite are included PLUS MUCH MORE!:
Digitizing Features
Magic Wand Segmented Auto Digitizing
Simple to use Auto Digitizing Wizard
Create Custom Tackle Twill Designs
Create Custom Appliqué Designs
Create Custom Fill Patterns
Create Cross Stitch Designs
Create Custom Motif Patterns
Insert Keyboard Lettering (140+ Fonts)
Vector Artwork tool
10 New Fonts with closest point connect
New Run Stitch Font
Redwork Tool
View Features

3D views
Stitch ends (each needle mark)
Stitch view
Outline view
Design sequence
Design Gallery to easily store production work
Slow redraw-simulated stitch sequence
Zoom using the Mouse Scroll Wheel
Adjustable grid settings (lines or dots)
Create/view guidelines
Intelligent Ruler (gives recommendations)
Image fading on imported artwork
Customizable software layout
Floating or docking toolbars
Easily select or hide objects, thread colors or segments
Specialty Features

Create custom thread charts
Save2Sew design optimization based on fabric type
Save design to JPG in 3D view
Minimum System Requirements

Windows XP Home
P3 300Mhz Processor
300 MB hard drive
128MB RAM
CD-ROMDrive
800 x 600 display
Mouse
Internet Access
Editing Features

Modify start and end points (.dst files included)
Modify stitch direction/angles (.dst files included)
Reduce angle lines (.dst files included)
Reduce nodes/points (.dst files included)
Modify object's shape with node editing
Edit density, underlay, underlay settings, compensation & stitch lengths
Add or delete individual stitches
Edit stitch outlines
Edit node/point type
Unlimited redo/undo
Optimize design sequence
Optimize element entry & exit points
Resize with stitch regenerating
Resize, rotate & distort lettering
Envelope lettering
Convert between stitch types
Create emboss lines for fill & satin stitches
Alignment tools/functions
Break apart text for additional editing capabilities
Add sections to existing embroidery objects
Auto-branching in manual digitizing
Transform designs/objects
Re-sequence object in Sequence Manager
Edit individual stitch points
Insert trim
Insert color change
Join design elements with branching
Floriani Total Control Professional gives you professional production abilities ALL in ONE affordable package.